Who Am I? About Me, The Dog Trainer!
I have been training dogs since 2007, primarily with "Working Dog" techniques, which differ a bit from what typical "Obedience Training" for your pet dog is like. Even though the techniques I use work great for high drive "working dogs" (German Shepherd Dogs from working lines) – like police K9s & sport dogs in Schutzhund, the foundation for my training works for all needs - everyone's included! The primary difference between the way you raise a pet vs. a working dog is seen, for example, in bite inhibition (you don't want to inhibit biting from a working dog, just redirect it), & also the way you socialize a working dog (which I will detail in great...detail). But with that said, the WAY we live, interact, & lead our dogs, regardless if they're a pet, or a protection dog, is the same.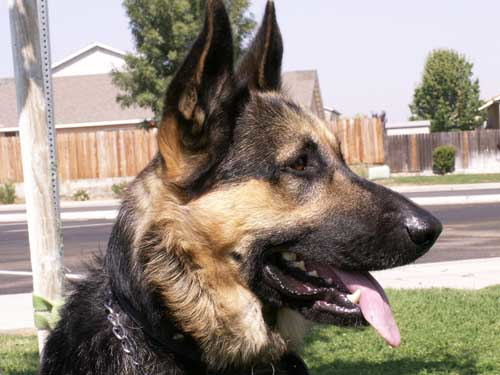 What Kind Of Training?
The type of training techniques I use are a combination of "Marker Training", which is my foundation, used with Positive Reinforcement, along with firm & fair corrections, to balance each other out. Of course, my training is tailored to the temperament of each dog.
My Training Experience's with my GSD's
Sable
Sable was a purebred "Sable" German Shepherd. I got her as a blessing from her first owner. I got her when she was just 12 weeks old. What I did the few first weeks was to seriously build a bond with her. I did a technique called "tethering", or "Tether Training". Basically, you connect the dog's leash to you, and so everywhere you go, your puppy goes to. I'll cover this bonding technique, among others, in the articles provided.
Training Experiences
How many times have you told your dog to "sit", "stay", "heel", and "Don't Bite Me!". I admit, during my 53 years of life (remember - "It's better to look good than to feel good!"), I've had quite a few dogs that I've been responsible for. But I've never really put in the time and effort to fully OB my dogs. So, please join me in the continuing saga in dog training!